Previous Chapter: A Feel of the City
Contents
Chapter 5. Xochimilco
---
In India, wealthy socialites organise beauty pageants; in Mexico, they stock up their mansions with art, and open them up to the public. Dolores Patino Olmedo still lives in a part of the complex which houses a large number of Diego Rivera works, besides antiques from various parts of Mexico. I think it's a characteristic of the psyche of the educated, talented and/or wealthy Mexican to try to make his or her countrymen aware of the country's history and culture: which is what gives us the Dolores Museum, the numerous murals on public buildings, the well-designed and inviting museums, and the museums full of schoolkids. India, no more third-world than Mexico, comes off rather poorly in comparison.

The Diego Rivera works in the Dolores museum are of the more intimate kind - sketches, paintings, preparatory drawings for murals. With a deft eye and quick stroke, he could capture the essence of a hawker in a marketplace. The museum itself has a very homely feeling about it: you would come to the end of a room, about to turn back, when a door would be opened by a smiling attendant, you'd be let out into a verandah surrounding a courtyard with flowering trees; you walk around to the next room: "Buenas tardes", softly wishes the attendant there. Among all this, a Compaq-sponsored scrabble competition in one patio struck a very discordant note.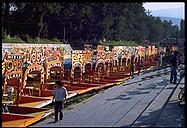 While this museum was a treat, the only disappointing place we visited in Mexico was also in Xochimilco - in fact, it's what Xochimilco is known for. The Aztecs found here a huge lake, drained parts of it and started farming in the rich boggy soil; with time, more and more of the marsh was drained, so what used to be a lake was reduced to a network of canals, which now seems to be Mexico City's favourite picnic spot - on water. Extended families and big groups hire boats, spending the entire day on them cooking, eating, singing. Serving them are sundry gondola-riding vendors: bands of Mariachi singers, sellers of beverages, souvenirs, photographers, all drawing their boats next to yours to solicit business, some even boarding yours uninvited.
As for the canals, we found them as interesting as, well, irrigation canals - clean, non-smelly, to be fair. The boats are garish and colourful, if that makes it worth the trouble. The picnickers spend the entire day floating through this vast maze of water - we spent two hours: I dont know if that makes a substantial difference. Be aware that the rates given in Lonely Planet and posted at the jetties are to be strictly enforced - a little laxity, the smallest hint that your Spanish is weak, and the gondolier will fleece you. Moreover, his ploy will be to park at a jetty along the way, and convince you that the market there is of utmost interest and worth spending a good half an hour (which will come out of the time he's supposed to give you a tour of the canals).

View/Add Comments
Next Chapter: Museo Anthropologia
---
shayok@hotmail.com