Previous Chapter: Planning...
Contents
Chapter 2. Biryani and Bahmani
---
Karnataka has fairly good bus services, and, in Bangalore, one can buy advance tickets from the government bus terminal at Majestic. The only snag was it was at the other end of the city from where I lived and worked, and riding to Majestic on my puny M-80 sandwiched between huge buses spewing carbon monoxide was never a thrilling experience. Nevertheless, if one was ready to suffer this, it was easy to get decent seats on the overnight buses that went to various destinations starting from Bangalore. The only time I didnt do this, against all the good advice I gave myself, I landed up late in the evening to catch a bus to Madras where Pushan lives, and I had to sit on a box in the driver's cabin of a bus run by a shady private operator and listen to insufferable Hindi film music all the way. A small perk to having an advance ticket on a Karnataka State Transport Corporation bus is that you get a free ride on any city bus to get to the Majestic terminal. Worth at best a couple of rupees, but it's the principle of thing.

The bus to Hyderabad left at about ten in the evening, and I found sitting next to me a woman gushing over her newly-got job at Verifone. "We have an open office, the VP's door is always open, you can walk in any time..." Basically, HR crap swallowed whole. She was less happy over the fact that the bus was not showing a movie on video; apprarently, Andhra government buses blast away Prabhu Deva antics which all passengers are forced to hear, if not watch.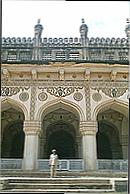 When she said "Are you carrying a chimera?" I figured she was referring to my tank-steel Zenit-122, so I said yes. With all her bizarreness, she was quite helpful -- a native of Hyderabad, she suggested areas in which I might get decent hotels, and even gave me her phone number in case I got into trouble. Western readers! this is India - strangers of opposite genders dont readily swap phone numbers. I was actually scared she might ask for my email address, but this did not happen - hers was a purely platonic solicitude.
The bus terminal at Hyderabad is magnificient; by Indian standards, it is comparable to a small airport. I called up a couple of hotels, decided on one, took an auto, and checked-in in no time. This was a weekend trip, and there was no time to waste. I set out for the Golconda fort.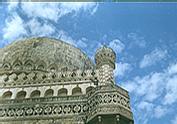 This is a regular fort, like many in India, interesting but not extraordinary. The real jewel hides behind it, a kilometer or so away - the Qutb-Shahi tombs, a complex of maosoleums to Nawabs and Begums. Not as trumped up as the Golconda fort, it attracts few tourists, and the atmosphere is unhurried and tranquil, just as the nobility resting there would prefer it. It is a nice feeling to be walking about these tombs, letting the symmetries and proportions of the buidings soak into you, musing how an early morning or late evening light (instead of the full noon that was now beating down) might have given you nice shadows. A Sarojini Naidu poem on a stone tablet nicely echoes my feelings about the place.
There is a small mosque, hardly taller than a man, that the last great Mughal emperor, Aurangzeb used to pray in - you can picture the bent old man, facing Mecca, kneeling on a small, square rug, living the last twenty-six years of his life fighting in far away Deccan, coaxing infidels to his kind of Islam, making a spare living copying the Quran. While Delhi melted, and Europeans crept their way into the economy.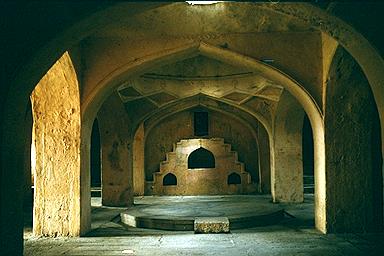 I was getting hot and hungry, so I returned to the hotel, had lunch with a large buttermilk followed by a siesta to compensate for the bumpy sleep of the night before. It was early evening when my alarm went off and I started for the icon of Hyderabad - the Charminar. As an Indian, I feel funny having to describe the Charminar, not only because it is so much a part of the schoolkid's history books, and it gives its name and picture to a popular brand of cigarette (manufactured, appropriately, by the Vizier Sultan Tobacco Company, owned, perhaps even more appropriately, by British American Tobacco), but because its name is entirely self-explanatory. I was about to type "The Charminar is a gateway with four (char) minars", when I stopped to ask myself if I was really adding any information. A check on Merriam-Webster confirmed my fear - "minar", apparently, is not an English word but, funnily enough, "minaret" is. Wouldnt you think minaret is simply a small minar? Anyway, philology aside, the Charminar is a gateway with four slender towers, arching over a narrow, bustling street.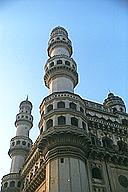 This was the month of Ramzan, and it was a week away from Id, which culminates this month of fasting. The sun had set, the period of fasting being over, people were thronging the streets. It was not just the Charminar, but the complete atmosphere that made the place so interesting. Though I've lived in cosmopolitan Calcutta most of my life, this was the first time I was seeing so many burkha-clad women together - the sight could have given a Dali-Hitchcock team some ideas.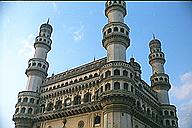 Strange as it may seem, tourists in India comprise almost entirely of two kinds of people: Westerners and Bengalis. I was amused to see Bengali signs on shops selling pearl-jewelry, and was intrigued to be approached by freelance money-changers - dollars sir, dollars; possibly it was the belt-pouch and SLR combo that produced the "foreigner effect".
Though Hyderabad is largely Muslim, the pearl industry appeared monopolized by Gujarati and Marwari merchants. I walked into one of these shops - it is interesting doing business with these people: the kind of time they spend with individual customers, the attention they bestow, the civilized haggling that ensues (no doubt ending with a nevertheless hefty margin for the merchant).
The last stop in this area was for dinner, for the famous Hyderabadi biryani. Restaurants were bursting to the seams, a populace making it up with its stomachs for the daylong abstinence. Eating-houses are highly stratified society in Hyderabad: the same establishment would have an area where people would be sitting on the floor around low tables, eating communally out of common plates; a large hall with small, crowded tables shared between strangers elbowing each other; and a tinted-glassed, carpeted, softly-lit section where miyas and bibis (mesdames et messieurs) would be giving the tourist a culture-shock by leaving picked-clean bones on the tablecloth.


Any Hyderabadi, and most tourists, that you speak to about Hyderabad will drool over the Salar Jung museum. Accordingly, I had it as the first thing on my schedule next day, to have the maximum possible time for it, arriving even before it opened its gates.

Salar Jung was so disappointing that I dont even feel like mentioning it. It's a big place, and as a one-man collection (that too not of the Nizam himself but his minister's) is certainly large; however, most of the stuff looks like regular tourist- souvenirs, mass-produced stuff. I guess this man travelled quite a bit, and got souvenirs from wherever he went; being richer than most tourists, he bought more expensive stuff than the average tourist. Occasionally, mass-produced stuff is interesting too, and some English crockery was quite beautiful.

From opulent Hyderabad I moved onto the sparse Deccan. The north-eastern part of Karnataka is on the arid Deccan plateau, a land with gentle slopes and low hills, unforgiving rocks that regularly heat up to above 40 degrees (110 for Americans) in summer; a few towns that dot the landscape are shabby and inaccessible, glories of the Bahmani empire now lying in ruins.

Dusk was falling when I reached Bidar, and the failing light provided an atmosphere appropriate for appreciating crumbling monuments. My first stop was the Madrasa of Mahmud Gawan, which translates to Mahmud Gawan College in modern terms. The elements have stripped down walls and opened sectional views into the structure much like a machine-drawing. This was an important centre of Islamic studies in its time; students came from far-flung areas; one can imagine they needed strong recommendations from their local mullah to get admission and aid. It was a strange feeling to find a place once humming with so much activity so forlorn.

I had to hurry to reach the Bidar fort before it got dark. The most interesting part of the fort is the gateway with a pointed-arch shaped entrance. Unlike the golden-yellow sandstone version seen in all tourist brochures on Bidar, I saw it in a dark red colour that I failed to capture in low light. The fort is basically a large, walled area, with a few structures inside. It is located at an elevation with respect to the surrounding areas, and from a watch-post I saw kids playing cricket outside and below the fort squeezing in a few overs before calling bad-light.

Dutifully following the Karnataka Tourism brochure, I had my auto drop me off at the government tourist lodge. This was a real horror. By all appearances a cheap private hotel lately bought up by the government, the rooms were small, mattresses dirty to the point of being soiled, and the toilet bowl was black. Escaping this dungeon as quickly as I could, I went to the local Tourist Bungalow. These are not regular hotels, but hostels run by the government, for the government. In theory, any individual can get rooms in these, but hardly in practice. The superintendent asked me the routine question - "Which department?" - years of Nehru-brand socialism having drilled it into Indians that every respectable person in the world ought to be a government employee. (In the state of Bihar, this question is usually followed by "Which caste?")

On confessing that I worked for IBM, I was packed off to see another officer, whose lackeys told me that all rooms in the Bungalow were booked for the upcoming elections. Good. It had been a long day (that had started with trudging through the galleries of Salar Jung), my bag was feeling heavy and I was hot and tired. Another hotel I went to was only slightly better than the tourist lodge; however, with the next one, I had luck. Unfortunately, I have forgotten its name, which might have been of help to a fellow traveller. This one was shining new and spanking clean; with bath, drink and dinner, I was quickly asleep.

There is something about the architecture in these parts that old tombs, mosques, forts, however repetitive, neglected, decrepit, remain interesting. The next day was spent more in transportation than in seeing things, and more in waiting for transportation than anything else. In between waiting for buses or riding in them, I was able to see the Barid Shahi tombs on the outskirts of Bidar, and the mosque at Gulbarga, whose dome is supposed to be second in size only to that of the one at Cordova, Spain. After waiting for hours at the Gulbarga bus-terminal to get a bus back to Bangalore (imagine, this is between a district-headquarter and the state capital), I tried my luck at the railway station. After paying a porter for "organizing" a berth on the train to Bangalore, I found that the coach was half-empty. Anyway, that did not rob me of any rest.

View/Add Comments
Next Chapter: Temples and Tombs
---
shayok@hotmail.com