Contents
Chapter 1. Planning...
---
I've always loved dreaming up ideal vacations, ideal itineraries. Rarely do I get to actually implement such plans, but it's fun thinking them up nevertheless. Such a plan usually involves optimal connections of trains, buses or whatever means of transport available, seeing a wide range of geography over a short period of time, and enjoying some exhilarating variety of landscapes. One time when we did have such a vacation was when we started at Calcutta, visited Agra and Fatehpur Sikri, Himachal Pradesh, and ended up in Ladakh! All over a two week period, enjoying every bit of it, entirely self-propelled, pooh-poohing the tourist coaches with their tour-guides and obligatory shopping. The Ladakh part of that trip has been described elsewhere; this article is about another ideal itinerary implemented, in reality, split over three extended weekends.

This was when I lived in Bangalore, which is at the southern corner of Karnataka, and pretty close to the southern extreme of India. Northern Karnataka and its surrounding areas always sounded interesting to me, and in the winter of '97, when it was pretty clear that I wouldnt be living there for much longer, I decided that it was time to do these trips before it was too late.

If you're feeling lost in all this text, and your subcontinental geography is not too strong, all the help that I can offer you now is this India and Karnataka and surroundings map from Lonely Planet.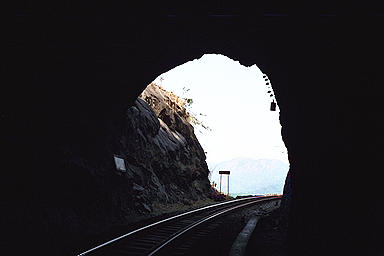 Karnataka is a fairly big state, sprawling across the volcanic Deccan plateau, rolling over the evergreen Western Ghats and coasting along the Arabian Sea. The northern extremity of the state is pretty close to the centre of India, just south of the Vindhyas and Satpura ranges that divide the country into two halves with sharp gastronomic and linguistic distinctions. My itinerary would take me to this south-of-centre zone of India: at its easternmost point, I'd be visiting Hyderabad of the Nizams, a dynasty synonymous with wealth and dissipation, whose puppet princes "ruled" through the British period up until India's independence. Then, I'd sneak into the north-eastern corner of Karnataka to see the ruins left by the Bahmani kingdom. Not too far from there are the remains of the famous rivals of the Bahmanis, the Vijaynagar kingdom at Hampi. The Vijaynagar kingdom was Hindu, while the Bahmanis were Muslims; they were nearly contemporaneous, kept fighting each other during their two centuries - the fourteenth and fifteenth - of existence, and ultimately fought each other to death. Whereas the Bahmani sultans mostly constructed buildings to their own glory, the Vijaynagar kings seemed more broad-minded, expanding foriegn trade and building an urban settlement at Hampi. The Vijaynagar empire came to an end with Hampi being sacked by the Bahmanis. Other dynasties, notably the eighth-century Chalukyas, left their mark in beautiful temples at Aihole and Pattadakal. Close by is Bijapur with its magnificient Gol Gumbaz - the Great Dome - the maosoleum to himself that the Bahmani king Adil Shah spent twenty years building.
One is bound to get tired of all this history and archaeaology and temples and mosques and palaces. Now would be the time to take-it-easy. Move on further westward to Goa, the hippie haven of the sixties, the ex-Portuguese colony that served as the beacon of European domination in this part of the world even well after the dominant European force, the British, realized that a colonization that entailed administrative responsibilities was no longer a profitable enterprise. Better explorers than shopkeepers, the Portuguese were the first Westerners to reach India (about the same time, Columbus the Clueless rendered the term "Indian" too confusing to be of any use), but were restricted by the English to this tiny state on the Arabian Sea, endowed with lovely beaches each with a lighthouse beckoning ships from the far west. Nothing to tick off a list. Few must-see monuments. Just swim, and bike, eat, and laze around.
The Hyderabad and Karnataka trips were different from the Goa one in that I did them all by myself, and I carried a camera with a newly acquired 37mm lens to supplement the 58mm that came with the camera. Being alone was kind of fun: you have to think of and decide for only yourself; you can stop as long as you want to plan any picture. For the Goa trip, there are no photos, but I wrote up a description and mailed it around to my friends soon after coming back, and it happens that Kazi archives all mails on Columbia University disk-space, so I have an easy cut and paste job there. For the other ones, unfortunately, nothing was written down then (except the odd letter that has since been lost by the ungrateful recipient), so I salvaged the negatives from the bottom of a pile of old clothes, got them scanned, hoping these will jog my memory. However stimulated, memory is selective, and I find huge gaps in what I manage to recall. My best hope is that you will be inspired to visit these places, and being inspired, will look up maps, history books, schedules to double-check any facts I might be putting down or implying, without warranty, in these pages.

View/Add Comments
Next Chapter: Biryani and Bahmani
---
shayok@hotmail.com